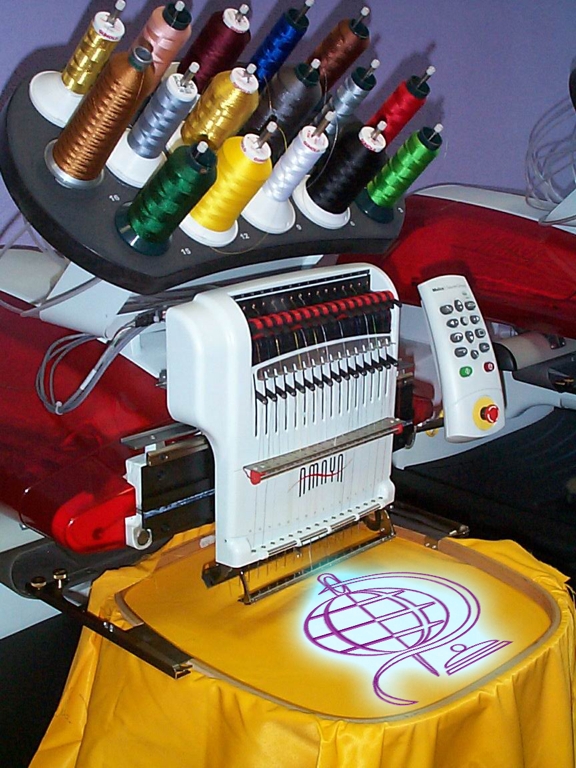 Denvers Baltika is an official and exclusive distributor of Melco Company embroidery machines in Baltic States and northwest Russia since 1997.
16 colors: Amaya offers a full pallet of thread colors – it is the largest variety today.
Setting time – shorter than ever before. It is also possible to set maximum embroidering speed for each thread color separately.
Laser eye: Amaya is the first embroidery machine that has tracing and positioning laser eye. This makes design setting easy and fast and guarantees exact design positioning. Laser is activated automatically during the positioning and eases visual control; also operator can activate laser manually by pushing the button on the quick access keyboard.
Thread rupture control: embroidery machine has a unique extraordinary function – thread rupture control that detects thread ending on a bobbin or spool or its rupture. When rupture is detected all other multi-head system heads stop and stay at the exact place. Head, where thread rupture was detected, returns back to rupture point. These actions prevent embroidering over already embroider areas and other quality problems that are usual for common machines.
Height adjustable presser foot: patented height adjustable presser foot eases the process of the adjusting different fabrics. It is possible to set presser foot's lower solid point manually without using any other tools. It's range 0.5-3.5 from the needle plate.
Secure thread capture: secure thread capture was made as a shield to prevent accidents and to place cut thread in a certain place. Threads capture decrease possibility of cut thread falling out of that place.
High-speed pantograph: all structure and moving parts of machine are placed above embroidering fabric, so it is almost impossible for fabric to jam between pantograph parts. Optimization of x/y axes using special reliance ensures embroidering process on a high speeds.
Thread tension: thread tension is one of the most critical elements of automated embroidering process. Patented "Active Feed" and thread tension regulation system gives the thread from spool to embroidering fabric with strict and exact control stitch by stitch even on maximum embroidering speed. Thread tension and feed is calculated for each stitch and defined using three individual parameters for every needle. This precise control ensures higher embroidering speed, softer embroidery, steadier quality and prevents thread rupture. Combining AMAYA's powerful software and precise constant control you provide high quality embroideries even if you use several AMAYA machines and different kind of fabrics. Your last embroidery will look as good as first one. In addition, AMAYA's embroidering speed is faster by 30% than any other it's class machine. Thanks to precise thread feed and tension AMAYA can achieve high speed levels regardless the direction of embroidery. High embroidering speed means less pressure meeting urgent orders.
Field of rational automated embroidery use:
Clothing manufacturers and advertisement companies definitely can't survive without embroidery. Embroidery can be used as an "ending" for any clothing part – trouser-leg, sleeve and collar. Embroidery is suitable for any style and texture – light blouses and jersey skirts, light wool business suits, and, of course, sports and work wear.
In regard to low cost price product usage and profit levels will increase rapidly. There is only one condition – great embroidery quality. AMAYA with unique "ACTI-FEED" technology grants you great quality. And this is not the only feature. Monochrome embroidery and "Chenile", 3D embroidery and other technologies previously unavailable to machine embroidery now are easily implemented on fabrics with different specifications, on the products of nylon, on the jersey, on terry products, on products made ​​of felt and leather.