GLITTER - Metallic Foil Thread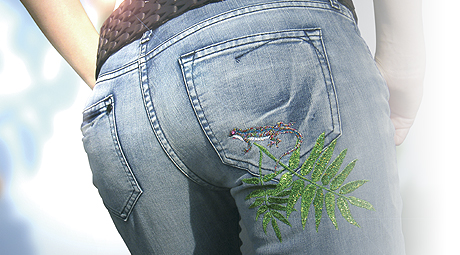 Glittery Foil Yarn for Shiny and Metallic Effects.
The new foil yarn GLITTER produces fascinating glittery effects for stunning embroideries. Like a hologram the cut, untwisted yarn surface refracts the light adding brilliance to any embroidery design. Ideal for large-scale designs – in the clothing or accessory trade.
Processing Recommendations
Thread Tension: as for all metallic threads, a loose thread tension is extremely important.
Thread Unwinding: make sure to slip the provided thread net over the cone before you start embroidering. This will guarantee even thread unwinding.
Needle: use universal needle Organ 75/11 SES or special needle for metallic threads Organ 775 in case of difficulties.
Bobbin Thread: for best results, use BOBBY SYN 120 or 130.
Design: particularly effective for large-scale patterns with longer stitches.

Technical Information
Item No. 1411 + Colour Number
Upper thread
Material: 60% polyester, 40% polyamid.
Strength: Nm 75/2; dtex 133.
Range of colours: 5 plain shades: gold, silver, red, blue, green, plus 1 multi-coloured type.
Make-up: Mini-king cones, 1000 m each.
Dispatch and packing size: 1 carton = 10 Mini-king cones, 1000 m each, also available as single cones.