METY - Metallic Embroidery Thread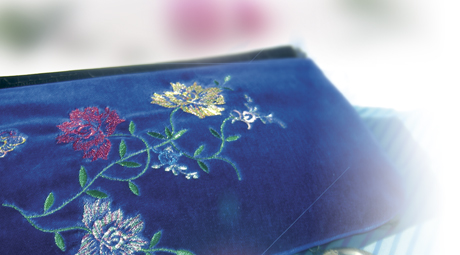 Shimmering Metallic Thread for Sparkling Embroideries Brilliant,
shimmering effects in glamorous gold and silver tones are guaranteed by using the proven METY metallic embroidery thread. 30 coloured shades will add sparkle to any project – for fantastic embroideries in gleaming colours.
It adds a stylish touch to everything, from clothing to home textiles or precious accessories!
Processing Recommendations
Thread Tension:
As for all metallic threads, a loose thread tension is extremely important.
Thread Unwinding:
Make sure to slip the provided thread net over the cone before you start embroidering. This will guarantee even thread unwinding.
Needle:
Use universal needle Organ 75/11 SES or special needle for metallic threads Organ 775 in case of difficulties.
Bobbin Thread:
For best results, use BOBBY SYN 120 or 130.
Design:
Best effects can be achieved in large-scale patterns, but it's also suitable for very fine embroideries.

Technical Information
Item No. 1411 + Colour Number
Upper thread
Material:
Metal-coated polyester/polyamid thread.
Strength: 7/2 = Nm 66; dtex 152 and 5/2 = Nm 49; dtex 206.
Range of colours:
8 gold and silver shades, 30 »coloured« metallic shades.
With quality certificate!
Make-up:
Mini-king cones of 1000 m each, Cones of 5000 m each.
Dispatch and packing size:
1 carton = 10 Mini-king cones or cones respectively, cones are also available individually.