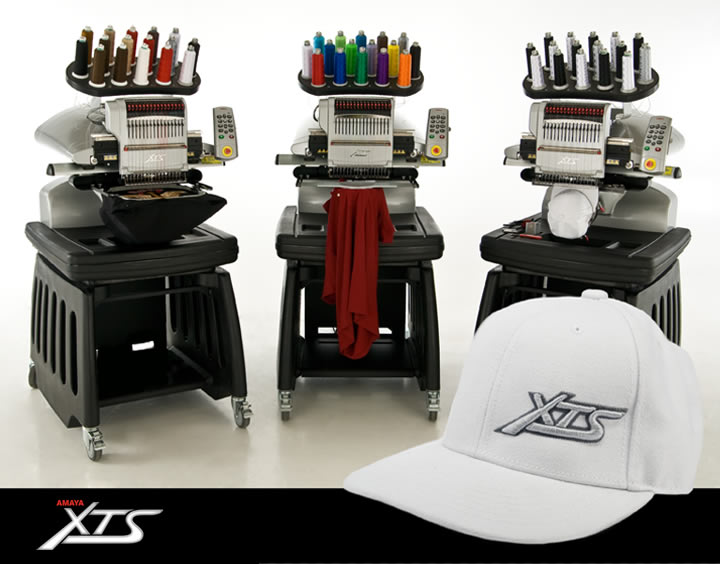 Things to ask about when you contact a friendly Embroidery Business Consultant:
New for XTS: The Second Generation XT is built on the solid XT platform, with a new metallic silver look that blurs the line between science and art.
New for XTS: Thread trimmer has a whole new cutting action for clean, reliable cuts, slicing through thick burmilana and metallic thread.
New for XTS: The new wide angle cap frame for XTS provides the largest cap sewing field in the industry, is easy to use, and extremely stable. This helps provide quick training and better design registration at top speed. The new design requires little or no backing and stitch quality is amazing.
New for XTS: Built in lettering and editing capability through new AMAYA OS.
Exclusive Feature AMAYA XTS OS now has Real Hoop Limit Detection, a new technological enhancement saving you time and money!
Standard Features:
Precise thread tension with the Acti-Feed™ technology.
Consistent speeds of up to 1500 stitches per minute, irrelevant of machine configuration.
Precise laser tracing eye.
16 color backup system.
We Train Our Customers!
Two-day, one-on-one onsite training available at the location of your choice.
We Support Our Customers!
Phone, e-mail, and web support.
Business Packages Tailored To Fit Your Needs
Single-Head Business Package perfect for the entrepreneur.
Multi-Head Business Package for the expanding business, or high-output enterprise.
All AMAYA XTS business packages come with DesignShop Embroidery/Digitizing Software and AMAYA OS. Your Melco business consultant will help you choose the right level of software for your business needs.