There is no translation available.

Real Modular Functionality
Nearly 20 years ago, Melco redefined efficiency with the first networkable, modular embroidery system. Melco EMT16X is the next generation of the most efficient, productive embroidery machine in the world. What does a "modular" embroidery system do? With the Melco Operating System (MOS), you control every machine on the network from a single computer. This enables management of individual machines as needed, without interrupting production on the entire network. No other system gives you this level of control and flexibility! With Melco EMT16X, there are no limits to how you can configure your system. You can embroider on virtually anything, and grow your embroidery business at your pace by adding single or multiple machines whenever you like. Check out the video to learn more.
Video Overview—EMT16X Commercial Embroidery Machine
Melco EMT16X embroidery machines deliver outstanding performance, efficiency, and stitch quality! Thanks to enhanced Melco stitch dynamics, the frequency of "thread issues" is minimized. This means more run time per machine, and greater ROI potential. In addition to amazing efficiency and performance, stitch quality is outstanding. There are several new performance and time-saving features, most notably the completely redesigned Lower Arm Assembly and Auto Trimming System.
NEW Melco EMT16X Lower Arm Assembly

The new auto trimming system is durable and reliable. Overall trim time has been reduced dramatically, which in turn reduces overall sew time. The self-sharpening carbide knife assembly consistently slices poly, rayon, metallic, and thick Burmilana thread. It's also virtually maintenance-free.
Here are some other new features and advancements:
Automatic Tie-In and Tie-Out Stitches
66% Reduction in Bobbin Tail Length
New Needle Plate Design
New Hoop Arms
Redesigned Thread Tube Assembly
New Grabber Blade
New Bobbin Case Access Panel
New Optional Accessory—XL Hoop
Exclusive Acti-Feed™ Thread Control System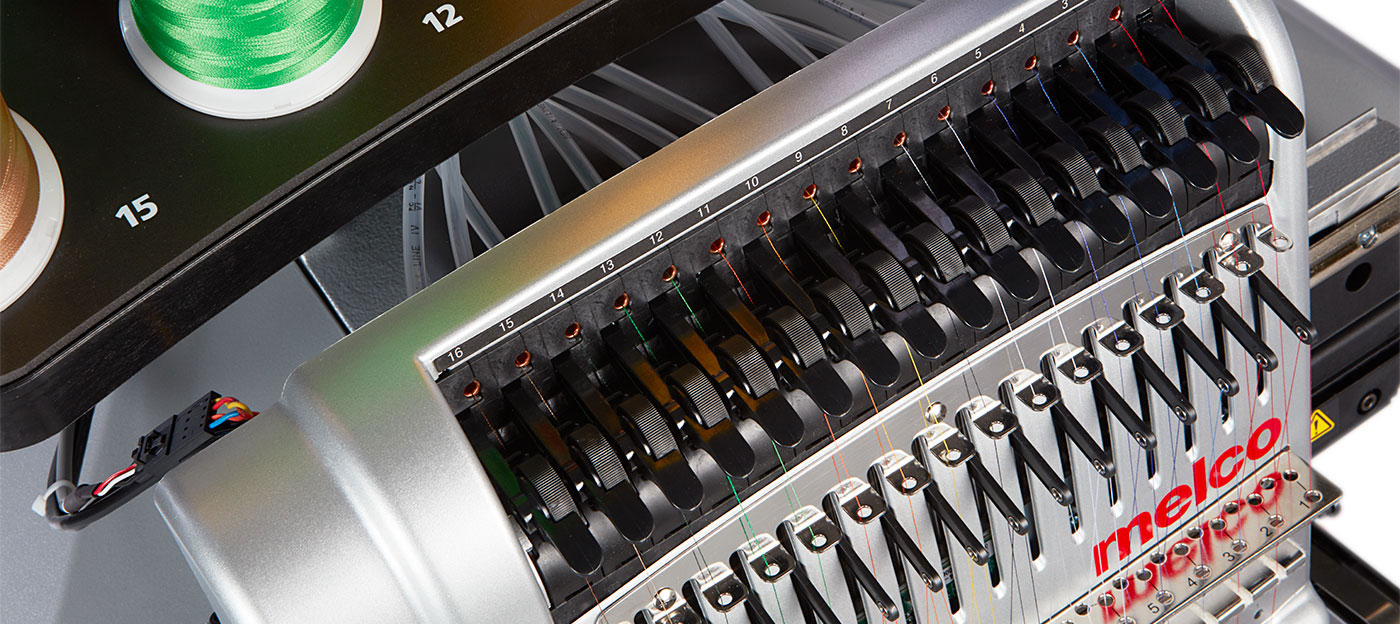 Thread feed is managed by the patented Acti-Feed™ thread control system, delivering the precise amount of thread automatically. Conventional machines require manual thread tension adjustments. With Melco EMT16X, enter a few simple inputs such as fabric type and hoop selection, and this intelligent system will do the rest!
Melco EMT16X is Engineered in the United States & Supported Worlwide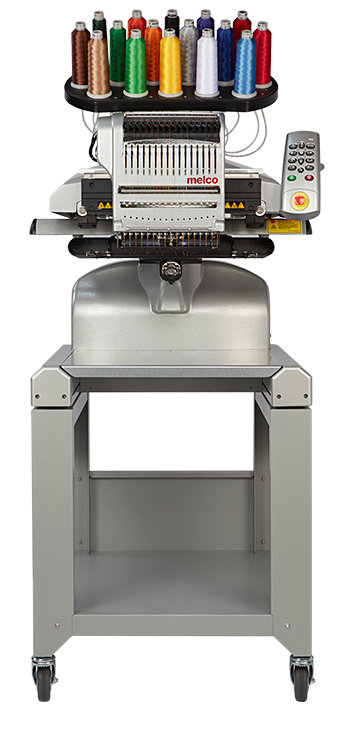 Here are some things that make Melco EMT16X unique:
16 Needle Commercial Embroidery Machine, Single or Multi-Head
Acti-Feed™ Thread Control
Precise Laser Registration
Adjustable Presser Foot
High Speed Pantograph (1500 Stitches per Minute)
Small Cylindrical Lower Arm for Embroidery on Hats and Pockets
Sturdy, Wheeled Cart for Easy Mobility
Scalable—Easily Add Machines to the Embroidery Network
Removable Table Top
Melco EMT16X is Highly Configurable!

Accessorize your machine to further enhance this amazing sytem! New machines are ready to tackle hat embroidery with the included cap driver, gauge, and two cap frames. Add the popular Melco Fast Clamp PRO, and you'll be ready to embroider on items like dog collars, pockets and more. If you plan to sew jacket backs and other large items, Melco XL Hoop is a great choice. Pick up the XL Table Top to help add stability to large garments and table runners. With one embroidery machine, you can embroider virtually anything!