SILK - Luxury for Classy Embroideries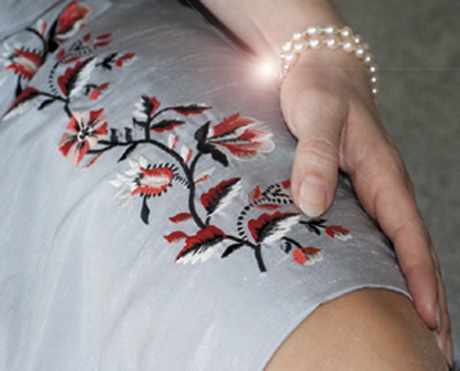 A precious look and matt sheen make SILK embroidery thread quite exceptional already on first sight. Not forgetting that sumptuous feel when touching it: smooth and classy, with the cool luxurious feel silk is known for.
SILK embroidery thread is the first-class solution for embroideries on exclusive fabrics and extravagant clothing – ranging from evening wear to luxury lingerie right to cashmere shawls.
Processing Recommendations:
Needle: Use universal needle ORGAN No. 75/11 SES. 
Bobbin Thread: With its exclusive silk haptic SILK embroidery thread is particularly classy. For embroideries that have skin contact it's, therefore, absolutely important to use SILK as bobbin thread as well, so the precious touch of silk can be felt on the skin!
Important: Silk is a unique natural product. That's why thread strength and weight may have a tolerance of approx. 5%.
Technical Information
Upper thread for precious embroideries
Material: 100% pure silk from China.
Strength: (+/- 5%): Nm 80/2; dtex 125/2.
Colour range: 12 colors.
Make-up: Mini-king cones of 1000 m each.
Dispatch and packing size: Carton with 10 Mini-king cones, also available individually.